Peter Knight
Design, Photography, Marketing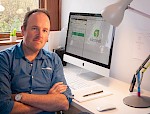 Hi, I'm Peter. I'm a graduate of the National College of Art and Design (NCAD, Dublin) and have over 20 years experience managing digital projects at my busy freelance studio, EdenStudios.
I started The 360 Company over 15 years ago as it combines all the hobbies I enjoy including digital design, photography, technology and marketing.
I'm a Google Street View Trusted photographer. I'm married to Rachel and we love to travel and photograph throughout Ireland and the UK for work and fun.

Google Maps - Street View Trusted
I have earned the Google Maps Street View Trusted badge for my 360° photography contributions to Google Maps where my photos have reached almost three million views.
As part of the Trusted program, I perform a number of functions and contributions to the worlds most popular mapping service including:
Photographing of business premises in 360°
Uploading 360° photographs to Google My Business
Joining multiple 360° photos into connected Virtual Tours for embed on Google Maps/Street View
Adding and editing of locations and business listings
About EdenStudios
As owner/manager of EdenStudios, my skills and work span design, development and digital marketing. I have worked with every size and shape of client from global Fortune 500 companies to local businesses and SMEs. I am hired by marketing teams and business owners to:
increase their website conversion rates
improve their website ranking on Google
create digital marketing and content strategies
design, develop and market web sites
build web-based business applications