One of the advantages of being a Google Street View trusted photographer are the insights we get from Google Maps. We can check any photographs view count and see how well it's performing across Google Maps and Google My Business. 
I love being to update clients with real data on their photographs popularity.
Occasionally we'll also receive an email from Google when a significant milestone is reached. Earlier this year, I had notification of one of those milestones — as of February 2019, our 360° Street View images have reached 2 million photo views! Apparently, this makes us 'a top photographer on Google Maps'.
Hi Peter,
You're a top photographer on Google Maps. You've just accomplished what very few people have done: reached 2,000,000 photo views.
Congratulations on the amazing accomplishment
Here's a screengrab of the actual email...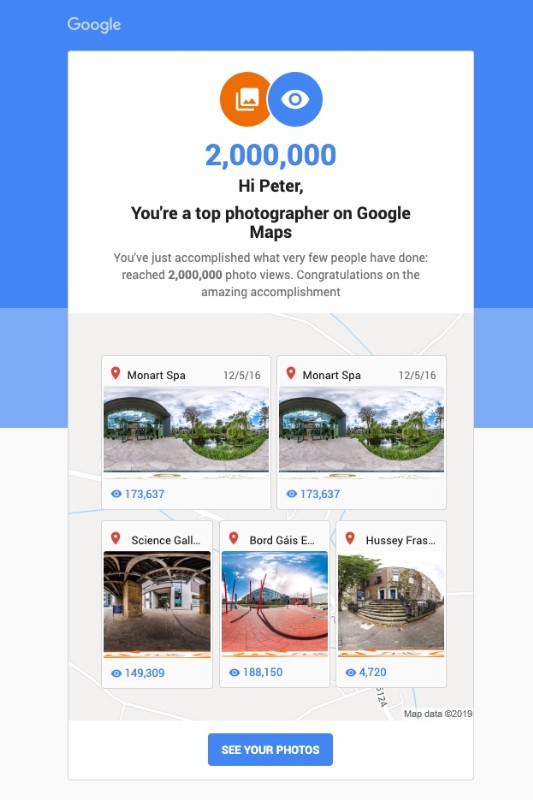 I'm delighted with this for two reasons:
It's proof that 360° photos are actively used across Google Maps 
Those Google Maps views translate into real-world visits
Given that Google's own research says Listings with photos and a virtual tour are twice as likely to generate interest, it aligns with my personal philosophy on Virtual Tours.
One of the best ways to get your venue noticed and generate 2X visitors is to publish your 360 photos to Google Maps. 
Virtual Tours should drive real visits to a destination and have a positive impact on visitor numbers and, of course, revenue.
Backing up that data, here are the 3 key findings from a Google Street View study which they commissioned in 2015.
When searching for businesses, consumers use mapping products 44% of the time
Listings with photos and a virtual tour are twice as likely to generate interest
On average, 41% of these place searches result in an on-site visit
To mark the occasion here's a quick showcase of some of our most popular Street View 360s to date (August 2019).
.
Above: This 360° Google Street View of Monart Spa in Wexford has had over 216,000 views.
.
Above: Our 360° Google Street View of Grand Canal Dock and the Bord Gáis Energy Theatre has been viewed 244,084 times.
.
Above: Our 360° Street View of Trinity College has been viewed 186,600 times.
Recent work 
And here's some recent projects which are quickly gaining exposure and climbing in views.
.
Above: Our 360° photos of Maria Tash store at Brown Thomas have over 6,000 views in a short space of time.
.
Above: A virtual tour of Ellenborough Park in Cheltenham has rapidly gained more than 23,000 views since publication.
.
Above: Science Gallery Dublin has just over 275,000 views.